Yep , with quality like that you can see why he can put this above his sub-Beano (a fine publication) delivery.
It's as if Private eye was taken over by the Krankies. Are those cow pats , ufos , or blood cells spaced evenly on a tangent by the way? Cow....qae....???....cow.....qae....???....cow...
Anyone want to take a stab at today's? My head spins just looking . I can't get past the pathetic political swipe ( indecision vs shrewd contemplation), the monarch as a genetically altered Homer Simpson , or her appropriation of The Houses of Parliament for the front grounds of the Palace. Someone please explain this scribble from the arse of Satan....
here is as far as I got in purely mathematical terms...
EDIT....... OK , here is what I found out .Look at the below diagram.
All to scale and super accurate . How do you know it is super accurate? Because it is done in glorious imperial scale not filthy euro metric . The question then is why is Parliament located there? Well , it's obvious . It's a fiendish oriental plot that has first taken over the mother of democracies and charted a course now to the figurehead of our state , our lovely Liz who should be meeting our nations leader Gordon . A 2 in 1 coup. The oriental replica of the queen however is a poor copy that has been subcontracted to South Koreans who work on the Simpsons . Gordon can't bear to look at her but tries to keep up the pretence buy discussing matters of state but not any secrets that will lead to the yellow hoard stealing the countries booty . He is trying to buy time whilst the fake queen forgets protocol and plays mind games with Gordon to rattle him. Meanwhile , Prince Phillip , realizing his wife must be dead and replaced with a hideous doppelgänger has to raise the alarm. The pirated Houses of Parliament have blocked off any help from the footguards battalion and the 1st Battalion of Welsh Guards at Birdwalk Cage . They have most likely been crushed by the hijacked legislative dwelling and it's relentless advance . Realizing this he draws on his naval skills and constructs a tennis court fuck-off sized distress signal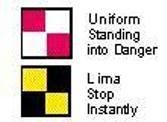 ,most likely "standing into danger" guessing by the colours , from tapestries to fly from side of the palace where he can clearly signal the guard at St. James . It is the best he can do with what he has as there is no naval flag for "Paul Thomas sucks balls the size of melons".
And that I think has to be the most logical explanation.