- Sun Jan 26, 2020 12:51 pm
#596214
I'm veering towards being kitted out in cast-offs and hand-me-downs. Might even be borrowed kit to look presentable in a photograph. I have a photograph of a great uncle in full highland rig. He served, like quite a few of my family, in the Dorsetshire Regiment. The only possibility I can arrive at is that he borrowed it for a cool pic to send back home. I wonder if there's a confused Scot up there in The Trossachs wondering wtf Great Uncle Hamish was doing in a Sassenach uniform?
Back to the Chinese Labour Corps -
Following Mr A's input, some more scratching of the surface.
https://blog.nationalarchives.gov.uk/ch ... n-front-2/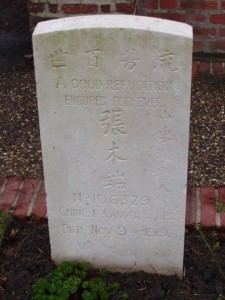 http://www.eastsussexww1.org.uk/chinese ... index.html
Official statistics suggest that around 2,000 men of the Chinese Labour Corps lost their lives but modern estimates place the actual number at around 20,000.
I'd have to delve into that.
The Red Arrow is currently appearing in 'Ride Me Like Piggot'' at The Kings Theatre, Newmarket.